As tragic as this situation is, there will come a point when survivors and family members of the deceased will have to reckon with the possibility of filing a maritime claim. These 11 tips are intended to help provide the clarity claimants need to make difficult decisions, and create the strongest case they can to protect their future economic stability.
1. Do Not Give Recorded Statements
Companies often use recorded statements to twist and distort what people say to suit their own purposes. We strongly recommend against giving any kind of recorded statement. This could hurt your case and also damage the cases of other workers and their families who may be filing as well. Recorded statements never help the injured parties; it is always for the company's benefit.
2. Demand Autopsies of Your Loved Ones
As horribly sad as these situations are, it is important that family members request autopsies of their deceased loved ones to determine what they went through in the moments leading up to their death. Medical findings, such as water in their lungs, can prove what they went through, and bring further justice to light. Without this medical report, the company will fight any claim that the crew members suffered while in the water. The autopsy may also reveal physical injuries they may have suffered in the capsizing. These are very unpleasant thoughts, but months from now such evidence will be critical in getting wives and children the compensation they need.
3. Pick an Attorney that Focuses on Maritime Cases
Maritime workers are covered under different laws than regular onshore workers. So you should pick an attorney that is very familiar with the Jones Act and DOSHA. Maritime attorneys are going to have more experience with these kinds of cases as well as the companies involved. We've been focused on Maritime law for over 50 years and our office has handled multiple cases against SEACOR Marine
4. Make Sure Your Attorney Identifies Responsible Third Parties
An experienced maritime attorney will know it's important to identify any responsible third parties. This could include shipyards who may have done recent repair work or even designers of the vessels depending on the circumstances of the capsizing.
Additional Tips for Families & Injured Maritime Workers
5. Choose your own doctor.
6. Tell the doctor the injury happened at work.
7. Make sure the company pays for all medical treatment.
8. Tell doctor's offices this is not a workers comp case. It is a maritime injury and will be billed directly to SEACOR Marine.
9. Keep detailed records of all communications between you and SEACOR.
10. Do not accept a settlement without discussing it with an attorney.
11. Do not sign any documents.
Reach Out to a Maritime Attorney at The Young Firm
If you have questions and need to discuss your options, feel free to call our office at 504-80-4100.
Know Your Options: Get a Maritime Injury InfoKit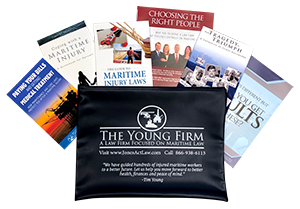 In Your Toolkit, You'll Receive
4 Must-Have Books that Will Guide You Through a Maritime Injury
The Guide to Maritime Injury Laws
Coping with a Maritime Injury: A Guidebook for Spouses
From Tragedy to Triumph: Stories About Our Clients
Paying Your Bills & Getting Medical Treatment
8 Brochures and Worksheets to Give You Quick and Easy Answers
Questions for Interviewing Your Maritime Attorney
Maintenance and Cure worksheet
Case Results
Choosing the Right People
Client Portal info sheet
Meet The Young Firm
In the Same Boat brochure with blurbs and case results from our clients.
Example of our newsletter