Our office is proud to offer maritime help guides for injured maritime workers and their families. Check out this free information by downloading our e-books or requesting our books by mail. This is FREE information to help you with your maritime claim and Jones Act law case. We have included practical, simple information and answers to many of the questions we regularly receive from our clients.
You can't make a good decision about your future unless you know all your options. Our free maritime resources can help give you the information you need to understand your rights and help you plan your future.
---
Worksheets, Forms, & Walkthroughs
Maintenance & Cure Worksheet

Did you know that if you are injured in a maritime accident, your employer has a legal obligation to pay for not just your medical expenses, but also your living expenses? These are called "maintenance and cure benefits," and you can use this worksheet to detail your expenses and submit them to your employer so you can be secure while you cannot work.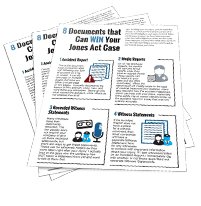 8 Documents that Can Win Your Jones Act Case

Good documentation is essential to accountability, especially in the case of an accident or injury. Witness statements, accident reports, vessel logs, medical files, and more are crucial for building a strong case. Learn more about the simple, everyday paperwork that could be essential to victory in any maritime case.

Screening Attorneys for Your Claim

The best way to hire an attorney is to interview several. Yes, you are interviewing the attorney, they are not interviewing you. Bring your spouse or other family members to the meeting. These questions below can tell you a lot about the attorney you are interviewing. After you meet with a few pre-screened attorneys, THEN decide which one you think is the best for you.
---
Guidebooks for After a Maritime Accident
The Guide to Maritime Injury Laws
If you find yourself wondering where to start after a maritime accident, this booklet is a great place to begin educating yourself on the laws governing injuries in the maritime industry. It's a comprehensive guide that goes into the law in detail, as well as answering dozens of common questions that you or others you know may find yourself asking.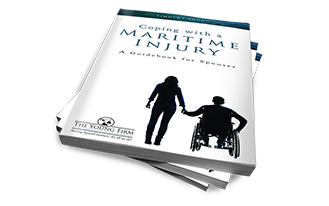 Coping with a Maritime Injury: A Guidebook for Spouses
Disability and pain affect more than just the person involved in the accident. Oftentimes, the significant other of an injured maritime worker is tasked with keeping the family going after an accident. This book can help guide your loved one's expectations and provide valuable insight and perspective to help navigate the trying times after an injury.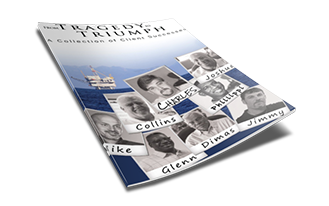 From Tragedy to Triumph

We at The Young Firm have been lucky to personally witness the recovery and growth of people, like you, who suffered a maritime injury and turned to us for help. This book is a collection of their stories, told from their perspectives. You may be surprised at just how similar their stories are to yours!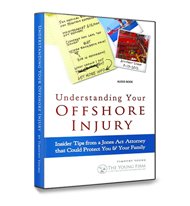 Understanding Your Offshore Injury

In the wake of accident and injury, it can be difficult to know where to start. This simple guide is designed with these issues in mind, and includes reviews of basic laws that protect industry workers, defines common terms, and explains many of the medical tests you may be undergoing in easy-to-understand language.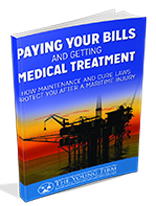 Paying Your Bills & Getting Medical Treatment

Learn:
How to get your maintenance increased
How to pick your own doctor and get the company to pay for it
What list to send to your company after you're injured
Want to pick your own doctor and get your company to pay for it? Need to know how to document your expenses…and get them paid? Are you having trouble making both ends meet and need help increasing your maintenance? Your company may not have the answers to these questions — or want to give them to you — but we do! This publication answers all these questions and more to ensure that you receive the medical and financial care you need during your maritime injury case.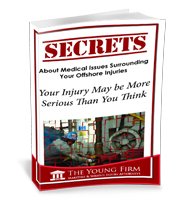 Secrets About Medical Issues Surrounding Your Offshore Injuries

"Can concussions cause permanent damage?"
"My lower back hurts, but how badly does it have to hurt before I go to see my doctor?"
"My doctor said my x-rays were clean and didn't show any problems. Why am I still in so much pain?"
There's no frustration quite like being in pain and not being able to learn why. This handbook can help! It details many injuries suffered in the maritime industry: how they happen, what they feel like, the tests used to diagnose them, the treatments used, and what could happen down the road if you DON'T treat them. Learn more about your injury and how it can affect your life both now and in the future.

---
Helpful Links & Resources for Injured Workers
Financial Resources
The Direct Financial Assistance program provides short-term financial assistance for mortgage, rent, utilities and other critical needs.
The Msgr Sigur Center provides emergency financial assistance to individuals and families experiencing an involuntary reduction in income or unexpected expense. To
Skip Downloading & Get a Maritime Injury InfoKit Sent Straight to Your Door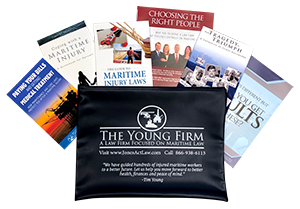 In Your Toolkit, You'll Receive
4 Must-Have Books that Will Guide You Through a Maritime Injury
The Guide to Maritime Injury Laws
Coping with a Maritime Injury: A Guidebook for Spouses
From Tragedy to Triumph: Stories About Our Clients
Paying Your Bills & Getting Medical Treatment
8 Brochures and Worksheets to Give You Quick and Easy Answers
Questions for Interviewing Your Maritime Attorney
Maintenance and Cure worksheet
Case Results
Choosing the Right People
Client Portal info sheet
Meet The Young Firm
In the Same Boat brochure with blurbs and case results from our clients.
Example of our newsletter